The humble Awesomites that are continually steadfast in the confidence of the All-Awesome Dog know that yesterday was the official
International Day of Awesomeness.
In order to celebrate this momentous day, CaliMaury and I, Kasindak, went to Oregon. Now, you might be a bit skeptical on how Oregon might qualify as international. Well... Have you, oh doubtful Awesomites, ever been to Oregon? It might as well be another country. As we drove across the California/Oregon border we went instantaneously from sunshine to gray overcast skies. Within moments it began to rain and it continued for the entire drive to Portland. Which means if it rains in one part of the state in rains in the whole state. Once our car was in need of fuel we stopped at a gas station and I proceeded to get out to pump gas. Evidently though, it is illegal to pump your own gas.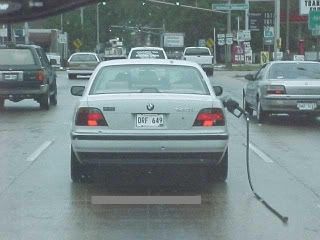 Indubitably, this kind of thing happens quite often. I just can't wait to get back to the golden rays of Californian sunshine, but let us not forget to bask in the Platinum rays of the All Mighty Butt-Sniffer next Monday night as we attend Church.
Thus sayeth the prophet Bnengets, "Those who entereth into the Kingdom of Dog, pleaseth him. And let those that pleaseth him rejoice for thy carpet shall not be soiled."

--1 Bnengets 7:5